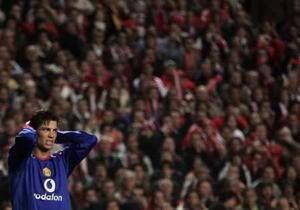 Sir Alex Ferguson has accused sections of Manchester United's support of "sleeping" during weekend games.
Ferguson admitted some Premiership matches were subdued compared, for instance, to the Champions League clash with Celtic.
He said: "I keep saying I wished every team could bring 6,000 fans with them like Celtic because it does create a competitive element between the fans."
Ferguson added: "On Saturdays they come here and half of them are sleeping, waiting to be entertained."
The Scot's comments are an echo of former captain Roy Keane's critical comments about "the prawn sandwich brigade" six years ago, who he claimed attended United matches.
Ferguson said after Celtic fans flooded Old Trafford:
"It created a far better atmospehere and our fans are better because of it. I think back to some of the great Wednesday nights – electric. We need that more often. We have to get that atmosphere right throughout the seasons. Some weekends they come here to be entranced, to see magic. But we need their spirit to ignite the team at times. It should not always been the other way around. A fan can stir his team."