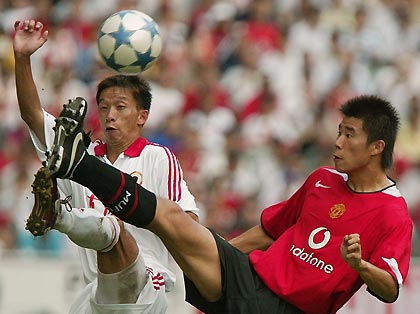 Manchester United's China international striker Dong Fangzhou has signed a new contract with the Premiership leaders.
Dong was granted a work permit in December, and his new deal will keep him at Old Trafford until 2010.
The 21-year-old signed from Dalien Shide in January 2004 for £3.5m and was loaned to Belgian club Royal Antwerp.
Manchester United manager Sir Alex Ferguson told the club's website:
"We're all excited he has eventually arrived and can start playing."
During his time in Belgium, Dong scored 36 goals in 61 games for Antwerp.
Ferguson added:
"He sacrificed two-and-a-half years at Antwerp, which showed great patience and determination. He's quick, athletic and he can only improve by training with the first team squad here."
Dong's only previous first-team appearances came in non-competitive matches on Man Utd's pre-season tour of South Africa, where he scored the winner in a match against Kaiser Chiefs.
[tags]dong,chinese football, man utd[/tags]