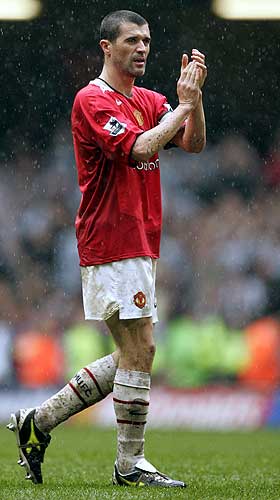 A crowd of 69,591 watched Manchester United beat Celtic 1-0 in Roy Keane's testimonial at Old Trafford.
Keane, 34, played for his current club in the first half but ran out with his former United team-mates after the break, to the delight of the home fans.
Paul Scholes and Ryan Giggs combined to set up Cristiano Ronaldo to score United's winner after 55 minutes.
Keane, who left United in December, told the crowd: "This is something I'll remember for the rest of my life."
Tuesday's game is expected to raise £2.5m, the majority of which Keane will give to charity.
Sir Alex Ferguson hailed Keane as one of United's best players of all time, and Keane responded by paying tribute to the club at which he spent more than 12 seasons.
"You get clubs who are happy to come second or third. Not United," Keane said in the match programme.
"The fans don't deserve anything less than winning and that's what the manager and the club are about."
To catch the latest news on Man Utd., visit the hottest soccer fan site on the net right now, Ji-SungPark.com, with its dedicated RSS feed.