After a successful year for the United Reds, Sir Alex Ferguson is not taking his team's chances lightly for the upcoming season. After Omar Hargreaves had been openly publicized as joining the Reds next season, Ferguson is still looking for other available players in the market.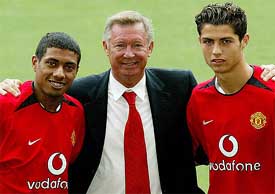 Among the players being mentioned around the rumor mill includes that of Mark Viduka from Middlesbrough, Fernando Torres, Klaas-Jan Huntelaar, Samuel Eto'o, Michael Owen and Dimitar Berbatov.
The players mentioned are certified marquee players that can certainly make an impact to the United Red's cause next year. The target positions being eyed to be filled up are a striker, a full-back and a winger. Based on the available talent outside the names tipped to be on the transfer block, Sir Alex Ferguson is sure to come up with another winning roster to uphold the United Reds winning tradition for the coming season which promises to be another banner year for his team.
[tags]united reds, sir alex ferguson[/tags]